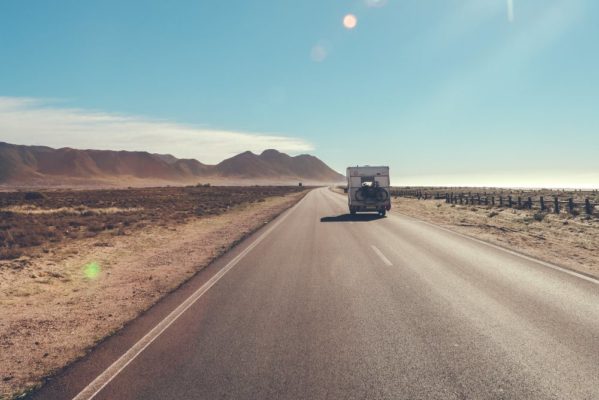 As we've grown, Camper Connection branches have been started all over the country by people with little more than some RV and camper experience and an interest in working for themselves.
In this post, we'll visit one of our newer branch managers – Matt Bussell. Matt and his wife, Hope, opened a new Camper Connection branch in Beeville, Texas in 2020 after years of their own RV'ing experiences.
Matt spent a lot of his early years going on RV trips with his grandparents. Later, when his parents bought their own, Matt got to see even more of the US.
"I got my sense of adventure from growing up in a military family," said Matt. "I got to see much of our country and different parts of the world at an early age."
Matt and Hope eventually purchased an RV themselves and began their own journeys around Beeville and beyond. Their first camper, a 2005 Four Winds Chateau, gave them the ability to explore the parks and campgrounds around southwest Texas and the state's beautiful Gulf Coast.
The Four Winds got them around in comfort, but mechanical and other troubles plagued camper. Even with the frequent breakdowns, the Bussell's fell in love with the RV lifestyle immediately and they eventually traded the Chateaux in for a 2018 Thor Freedom Elite
Matt and Hope both work at a children's home where they manage a cottage for girls. The Bussell's have worked with children their whole lives and have one child of their own.
Matt and Hope had discussed starting a business so they could give more to charities like the children's home where they worked, and when they discovered they could rent out their motorhome, they decided to take a leap of faith.
Their first experience with a small, local consignment company which was challenging. Even though they learned a lot, they lost money. Working with the local consignment company had resulted in damages to their rig. The company also held back money the Bussell's had earned.
Matt knew it was possible to make money by renting out their RV. However, their recent experiences had left a mark and the Bussell's initially shied away from getting back into a consignment program. Matt considered doing it himself but was uncertain how to do it right.
In early 2020, Matt began watching Facebook Groups for feedback based on real user's experiences. There, he discovered the Camper Connection and after some consideration, realized he was ready to try again and the Bussell's opened a branch in Beeville, TX.
The Bussell's love the Beeville area for several reasons. Their Camper Connection branch is just 1 hour from South Padre Island, the Gulf of Mexico, and the beautiful beaches there.
Beeville is also an easy drive from other Texas attractions, such as the North Hill Country, San Antonio, and Corpus Christi. According to Matt, Beeville is a 2-hour drive from lots of fun and interesting things to see and do.
Asked about their own favorite RV destinations, Matt shared several nearby campgrounds and parks, such as Jellystone and Breckenridge Park. There are several family-friendly attractions in the area.
"When I take the kids to Breckenridge," said Matt, "I feel like I'm taking them somewhere safe."
Having control of their own RV rental has also given Matt better control over their schedule, allowing the family much greater use of their own camper.
After a lifetime touring the country with four generations of family members, Matt Bussell still has a strong love for the Camper and RV lifestyle. Now, managing their own Camper Connection branch, he hopes to ensure his kids love the experience too.
If you're interested in renting a camper or RV for your own trip, renting out your own personal camper or RV, or even starting your own camper and RV rental business, please contact the Camper Connection Team for more information today!