Are you longing for a memorable family vacation on the picturesque shores of Myrtle Beach, Carolina? Look no further than PirateLand Family Camping Resort, it offers a blend of fun-filled activities and beachside beauty. From the pirate-themed splash pad to beachside sites, this campground has something for everyone. Let's dive into the enchanting world of PirateLand RV Resort and explore its offerings in this comprehensive review.
Beachside Bliss
Located just steps away from the pristine sands and sparkling waters of Myrtle Beach, PirateLand RV Resort offers a prime location for beach enthusiasts. You can easily walk to the beach, allowing you to soak up the sun, build sandcastles, or take a refreshing dip in the ocean. The convenience of having the beach so close by adds an extra layer of relaxation to your stay, depending on where your site is you may want to rent a golf cart to easily get to the beach.
A Splash of Adventure
PirateLand Family Camping Resort is a paradise for families with children. The resort features an incredible pirate-themed splash pad, where little ones can embark on their own swashbuckling adventures. With interactive water features, slides, and imaginative play areas, your kids will be entertained for hours. Watching their faces light up with joy will be a treasure in itself.
Poolside Pleasures
In addition to the splash pad, you can immerse yourself in relaxation at the beautiful pool area of PirateLand Family Camping Resort. The pool and lazy river provide the ideal spot to cool off and unwind. Whether you prefer to take a refreshing dip, bask in the sun, or indulge in a good book, the pool area offers a serene oasis for guests of all ages.
Mini Golf and More
For some friendly competition and family bonding, PirateLand Family Camping Resort offers a mini golf course on the property, although please note it does cost extra.  Additionally, the resort features an arcade, ensuring that guests of all ages can find endless entertainment.  There is also a large, well-stocked store on site.
A Gastronomic Delight
A snack bar is on-site offering burgers, chicken tenders, and ice cream.  In addition, food trucks visit during the peak season giving campers a variety of food choices.  The food trucks visiting PirateLand Family Camping Resort bring a delightful variety of flavors to satisfy every palate. From gourmet tacos and savory barbecue to artisanal pizzas and mouthwatering seafood, the options are endless. The rotating lineup of food trucks ensures that each day brings a new culinary adventure, allowing campers to savor different cuisines without ever leaving the resort.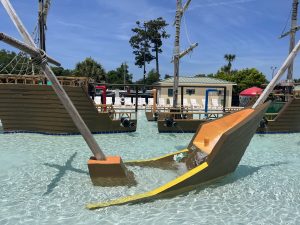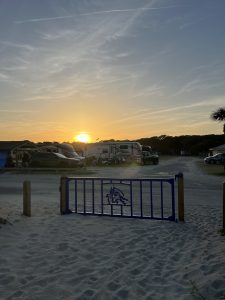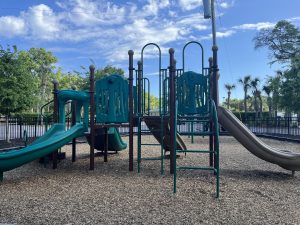 PirateLand Family Camping Resort in Myrtle Beach, Carolina, is a treasure trove of adventure and relaxation. With its prime location steps away from the beach, serene atmosphere, and exciting amenities, it's the perfect destination for a family getaway. Whether your kids are splashing in the pirate-themed splash pad or you're lounging by the pool, PirateLand Family Camping Resort offers an unforgettable experience for all. So pack your bags, set sail for Myrtle Beach, and let the pirate-themed magic unfold at PirateLand Family Camping Resort!
If you are looking for other places to camp in the Carolinas, check out our previous blog posts, Why We are Obsessed With Camping in the Carolinas and You Should Be Too – Fireside RV Rental Blog.  Need a rental RV to visit one of these amazing locations?  Check availability here.