Staying in campgrounds can be a great way to save money on your travels, with nightly rates averaging between $20-40. State Campgrounds also gives you an up-close and personal view of nature.  Many state campgrounds are wooded and give you amenities such as on-site lakes, fishing, hiking, and wildlife viewing.  As a bonus, many state campgrounds offer water and electric so you can camp comfortably.
This park is located in Western NY in the town of is one of the few state parks in NY that offers water and electric sites.  This campground is deemed the Grand Canyon of the East and boasts 66 miles of hiking trails with beautiful waterfall views.  During the summer months, they have an on-site swimming pool, white water rafting, and even hot air ballooning.  For those that are more adventurous, this state park is open year-round and during the winter months where you can cross country ski and use the snowmobile trails.  Year-round offerings include education series at the Humprey Nature Center.
McCallister state park in Georgia is South of Savannah easily accessible from the highway but is nestled on an Island where there is an abundance of wildlife for viewing.  During our short stay, we saw several deer and an armadillo.  The campground is surrounded by a salt marsh and there is a fishing pier where you can partake in fishing or just the beautiful sunset.  In the front of the park which is across a mile-long bridge, there is a playground, walking trails, museum, and the Fort which was from Civil War times.  The fort contained underground bunkers you could explore, cannons, and a hotshot furnace.  The large Oaks and Spanish Moss that grow throughout the park add to its beauty.  There are also several geocaches that can be found in the park, which is a fun way to keep the kids entertained while on hikes.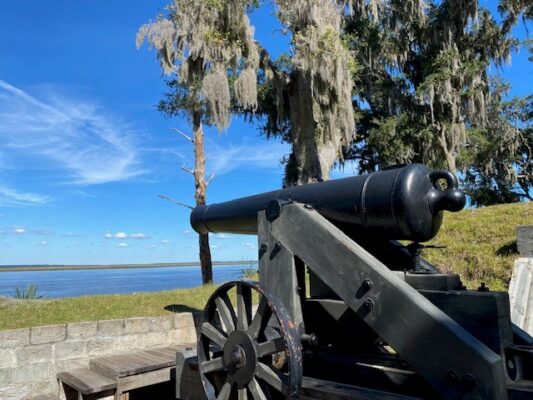 Anastasia State Park is conveniently located off of I-95 in St. Augustine, Florida, making it a great stopping point on your way down to the more southern part of Florida.  Most sites are within walking distance of the beach, however, the shady sites protect you from the salt sand, and wind that the beach can bring. The beach is the perfect spot for fishing, swimming, and picnicking.  When not enjoying the onsite amenities, be sure to visit historic St. Augustine where you can visit one of the many living history museums.
This Kentucky state park is full of history and amenities for families to enjoy.  The onsite museum features displays on paleontology, geology, Native American history, and ice age mammals.  Surrounding the museum are multiple hiking trails that will lead you back to the campground.  You can even view the bison herd that is located in the park.  Other onsite activities include:
swimming pool
2 playgrounds
mini-golf course
tennis courts
If visiting the Cuyahoga National Park, this State Park in Ohio is a great campground that is close by.  It has close to 200 sites and a 2650 acre lake which can be used for boating, fishing, and swimming.  There is a variety of hiking trails and an 18 hole disc golf course, as well as a dog park.  If you love exploring nature, this is the campground for you.  In addition, the campground has special events throughout the year.  We were lucky enough to stay during a Halloween weekend, campsites were elaborately decorated and hundreds of campground guests and local town residents gathered together to trick or treat and celebrate.
Looking for a state park on the beach?  If so this campground in Alabama is for you!  This state park features 2 miles of white sandy beaches where you can swim, paddleboard, kayak, and even parasail.  In addition to the beach activities, the park has a swimming pool butterfly garden, fishing pier, and miles of biking trails.  The best park is full hookup campsites start at only $46 per night
Most state campground reservations can be made through Reserve America and depending on the state, reservations can be made 6-11 months in advance, making now a great time to secure a site for next year's travels. Many of our branches are located nearby state campgrounds and some even deliver there!  Check out our RV rental availability here.