Spring break is right around the corner!  Beat those winter blues and plan a trip to get the kids out of the house safely.  There are many destinations throughout the United States that have minimal travel restrictions. Whether you are looking for a relaxing destination or one full education or adventure, here are our favorite spring break destinations:
Myrtle Beach, SC
This campground is oceanfront is packed full of amenities.  It is just far enough South to enjoy warm breezes and the sight of palm trees.  One of the things we love about this campground is that only seasonal residents are allowed golf carts, so there is more of a laid back feel than some of the other area campgrounds.  Because of this those with little ones can allow their kids can ride around on their bikes with no worries.  Our favorite amenities were the indoor pool for rainy days, giant playground, and of course the ocean being steps away.  Our only complaint is that the specific site number cannot be reserved, which will be changing next year, however, you can request a certain area.
Pro tip:  If you want to be closed to the beach, request beachfront sites 1-10.  They can not guarantee which row or spot you will be in but it's the closest you can get to being near the beach.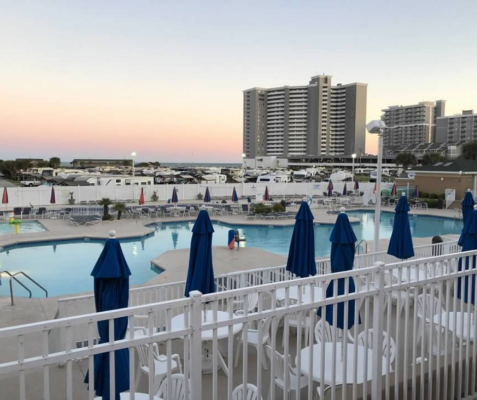 Destin, FL
This campground, I haven't been able to visit yet, but it is on my itinerary for our fall trip.  It's had many raving reviews.  The thing that everyone loves about this campground is you can park right on the white sandy beach of the Emerald Coast. This campground can be a great place to just relax and reset or you can partake in the waterslides, boating, and planned activities they have right at the campground.
Pro tip:  Pets are not allowed on beach front sites.
College Park, MD
This is closest RV park park to Washington D.C. and is the best place to visit if you want your spring break to be full of history and fun.  Amenities include bike trails, playgrounds, fishing pond, mini golf and Cherry Hill Park tours.  The pool and splash pad is open seasonally starting in April, so depending on when your spring break is, you may be able to enjoy these amenities as well.  Spring is also the best time of the year to visit to witness the beautiful DC Cherry Blossoms which hit peak bloom sometime between mid March and mid April.
Pro tip:  Stay in loops 100, 600, or 1200 for a quite site away from road noise and the hustle and bustle of the park.
Apache, AZ
Our branch manager, Kristina, in Mesa, AZ says this is one of the most visited places her renters travel to.  This gorgeous state campground located in the Sonoran Desert, offers a variety of programs including Junior ranger programs and bird walks.  This is really the place to go if you want too get away from it all.  There are multiple hiking and biking trails and tons of wildlife like coyotes, roadrunners, and bobcats.
Pro tip:  Bring binoculars to view the wildlife from afar
Pigeon Forge, TN
If you are looking for a destination full of activity, this is it.  Located right on the strip where there are many attractions such as a variety of museums, amusement parks and more!  Even though it's close to the hustle and bustle of town, the campground itself it quiet.  You can chose to not even leave the campground with the many amenities of pool, playground & obstacle course, jumping pillow, and dog park.  If hitting the attractions isn't your idea of fun, you can talk a short drive to Smokey National Park to enjoy the scenic views, hiking trails, and horseback riding.
Pro tip:  Try to secure a creekside site, these are the largest sites, with beautiful landscaping.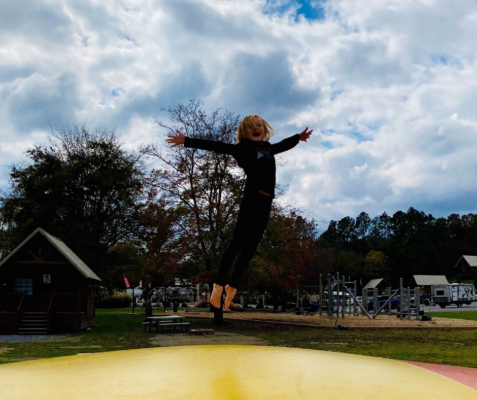 Brawley, CA
Looking for an adventurous spring break?  Then look no further, Glamis Flats located at the Imperial Sand Dunes offers dispersed camping and features dirt bikes, dune buggies, and OHV riding throughout the sand dunes.  This can be a busy destination, so if you are looking for a quiet retreat, this location may not be for you.
Pro tip:  This is a dry camping spot, there are no water or electric hookups.
We hope you liked all of our suggestions.  Now all you have to do is pick a destination and start planning that trip!  Once you have decided on where you are going, book your RV rental.  You can check availability here.  We hope to see you at The Camper Connection soon.