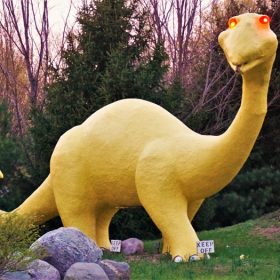 Camper rental leads to fun, sometimes where you least expect it. Whether you're looking for a beachfront destination, a mountainside resort, or just a place to pull in for the night there are campgrounds waiting for you all across the beautiful state of Michigan. Kampvilla in Manistee is a perfect example, and their big yellow dinosaur will make sure you don't miss the entrance. Michigan Camper Rental will help you find it too, click here to contact us for camper rental information.
Take a Peek, Might be Unique!
Kampvilla RV Park and Campground sits on the West side of US-31 in Bear Lake, Mi. Located a few miles North of Manistee, Kampvilla is centrally located between some of the most beautiful attractions in Michigan. The campground's mascot, Big Yellow Dinosaur was once part of a miniature golf course before relocating to the campground. There are several other cement statues in the park which are great fun for kids.
Lots of Features Along With the Creatures
Kampvilla is surprisingly full featured. The roomy full hook-up sites provide water, electricity, and sewer. They also have WiFi for campers who don't want to "unplug". For campers who need a break from the road, the campground is complete with a heated pool, fishing pond, basketball and volleyball courts, and a clubhouse for socializing on rainy afternoons. Once everyone's rested up and ready to roll there is a lot to see close by.
Plenty of Action at Local Attractions
Close to fun and interesting local sights, Kampvilla is near Lake Michigan for anyone who wants to fish or spend a day in the sand.  For bass chasers, Bear Lake, Crystal Lake, and Platte Lake are all a short drive away. There are eight nearby golf courses, available canoe and kayak trips, and too restaurants to list. And, the campground is close to The Most Beautiful Place in America according to Good Morning America – Sleeping Bear Dunes. If you go, be sure to learn the legend.
Wherever you Roam, Make it Your Home!
Camper rental provides a home base for travelers who want to explore a beautiful part of the state. Instead of packing and unpacking when changing between hotels, camping in a central location allows everyone to experience the things they want. Kampvilla is a fun, family-friendly place where kids can play while parents relax. Or, the campground provides the perfect home base for people who want to see the area sights and come back to ao campfire at night. See what I did there…
Click here for to visit Kampvilla's website and learn more about their fun and unique full-service campground.