Campgrounds around Michigan
It's no doubt that Michigan has a lot to offer: warm summers, an abundance of lake frontage, beautiful scenery. Choosing where to stay on a vacation could be extremely overwhelming. Below is a list of some of the top rated camp grounds in Michigan and what they have to offer.
Upper Michigan
Tahquamenon Falls State park
Tahquamenon Falls State Park is located in Paradise, Michigan. The falls are a must see, especially with the autumn color change. If hiking is a family favorite, this park has 40 miles of hiking trails!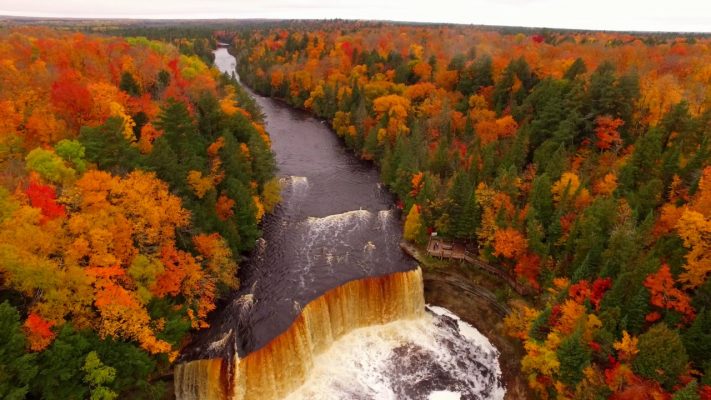 Porcupine Mountains State Park
Located in Ontonagon, this state park is full of wilderness and the lake life. The porcupine mountains are full of rich history and water front for fishing. Again, this is a must see in the fall season. There's even a ski lift that offers ride to view the spectacular fall colors.
West Michigan
Duke Creek Campground
Duke Creek Campground is a very family-friendly place to stay. Not only do they offer hayrides for the kids, they also have their own disc golf course. Also offered are playgrounds, basketball courts, a heated swimming pool, lake front access, and volleyball. Dogs are also welcomed!
Holland State Park
Holland State Park is less than 10 miles away from the beautiful downtown Holland, which has many shops and restaurants. This state park is along sandy beaches and a gorgeous view of the sunset. The beach offers a full service concession stand. The view of the light house and beach will never get old.
Eastern Michigan 
Caseville Park
Located in the thumb of Michigan, Caseville is great for that small-town feel. With beautiful beaches and playgrounds for the kids, this site is top of the list. Also, Caseville offers something called a cheeseburger festival in August – yum.
What are some more family favorite campgrounds? Make sure to check out our campers here. Did you know we service all over Michigan? Check to see what we have available – now scheduling for 2018.