How a Teterboro, NJ couple turned a possible mistake into a profitable business venture.
In June of 2016, Elizabeth and Jeramie Cavallaro took their first real drive in their brand new 32-foot Jayco Precept recreational vehicle. Suddenly finding themselves on their own with only a 15-minute dealership test drive behind them, the RV seemed to swallow up the entire road and toll booths looked impossible to clear.
The RV's size wasn't the Cavallaro's only concern. In fact, soon after driving off the dealership lot, both had second thoughts and believed they might have rushed into the purchase. Or, possibly even made a mistake. Neither of them had ever slept in an RV, let alone set one up at a campground or drive one down a busy highway on a holiday weekend.
"What would our families think?" Elizabeth wondered. Jeramie had other concerns.   
The monthly payment alone was enough to make him reconsider their purchase. But that was not the only expense. The RV also need cleaning, maintenance, insurance, and a place to park it. The costs, even when the recreational vehicle was not in use, quickly added up.
The couple was also unsure how often they would be free to use the Jayco RV. Could they go camping more than once or twice over the summer? Would they even use the camper three or four times a year?
Although Jeramie and Elizabeth quickly fell in love with the feeling of freedom the recreational vehicle created, the camper soon seemed like it could be a big waste of money.
Then, they took their first real road trip.
The week of July 4th, the Cavallaro's decided to take their two-year-old daughter, Jasmine, and surprise Elizabeth's parents by making the 6-hour trip to their Baltimore, Maryland home in the new RV – arriving unannounced. They were not even sure that the 32-foot Jayco Precept would fit in her family's driveway.
On the way there, Elizabeth began to feel at home in the big camper.
"I remember thinking, boy am I thirsty. I'll just grab something from the fridge" said Elizabeth. Later, she considered suggesting that they pull over to get some lunch, but realized she could throw something in the microwave while they keep on rolling.
"Wait a minute," she suddenly thought, "I could get used to this."
When the couple arrived at her parent's house in Baltimore, Elizabeth's mom and dad came out of the house with jaws hanging open. For Elizabeth, their excitement made the surprise trip even more worthwhile.
Having never set foot in an RV before, her parents and relatives were shocked by the camper's features. The couple fielded questions about the full kitchen (or galley), the roomy shower, and all the other amenities that made the Jayco RV their home away from home.
That weekend, Elizabeth began to get truly comfortable with the idea of owning the camper. With cabinets full of their own food and snacks, their very own sheets and pillows, and their daughter's toys, the RV really was their home away from home.
"This is what I dreamed of." thought Elizabeth. "Boy, did our RV feel incredible."
Back at their own home, the RV's cost of ownership still seemed like a big expense.
"We could have rented one whenever we wanted to travel and saved the money" said Jeramie.
With that thought, the Cavallaro's future began to take shape.
"I thought, if we would be willing to rent an RV even though we've hardly ever used one, would other people?" said Jeramie.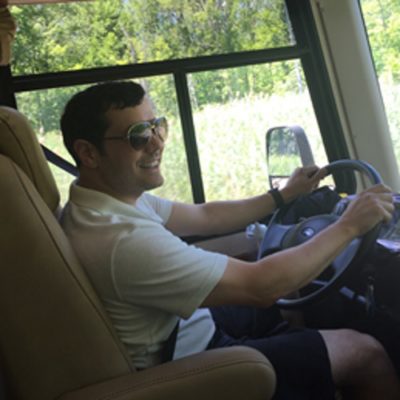 As it turned out, lots of people would. Almost every weekend. And, those clients were willing to pay enough to cover the RV's monthly payment, maintenance, and storage costs. The couple even began putting several thousand dollars in profit into their pockets each month.
A short time later, Jeramie and Elizabeth attended a real estate seminar which highlighted the benefits of having property that you already own pay for itself through rental programs while leaving time open for the owners to enjoy whenever they wished. The program, or the "vacation home for free" mentality, fit perfectly with the couple's idea of renting out their camper.
A few days later, the Cavallaro's had their new RV listed on several of the biggest recreational vehicle sharing sites online, such as RV Share, Outdoorsy, and The Camper Connection. Although Elizabeth believed it would be a while before they saw any interest, just two days later they had their first inquiries and people even began to make reservations.
"We lined up people to clean, do laundry, and handle the maintenance," said Elizabeth, "and we successfully rented out our camper from April to October of this past year."
For the Cavallaro's, that unexpected income could not have come at a better time since Elizabeth, who was contributing to their family finances, had been laid off in February.
As with any new venture, the unexpected success of their newly launched RV rental business was accompanied by their fair share of ups and downs.
"We learned a lot from our success and losses this past year," said Elizabeth, "but the 'Vacation RV for Free' lifestyle was born, and we never looked back!"
The Cavallaro's are so passionate about their successful RV rental business that their plan for 2019 is to help other families start their own. Their goal is to help people like themselves create their own RV rental income stream that will cover the total cost of RV ownership.
"We want to help other families create lasting memories while enjoying the RV lifestyle for years to come" said Elizabeth.
Instead of starting from scratch, RV and camper owners can partner with the Cavallaro's to benefit from their successful business's established visibility and market coverage. Partners will also have access to the same scheduling programs, cleaning and maintenance personnel, knowledge and experience, and many of the couple's other resources.
Based in Teterboro, the Cavallaro's Camper Connection branch will cover all of New Jersey, where opportunities and attractions available to RV and camper owners are far more abundant than many people might believe.
With dozens of RV parks perched along NJ's beautiful Atlantic coastline, hidden within more than a million acres of Pinelands between the Jersey Shore and Philadelphia, and located near hundreds of historically significant sites, The Garden State has a lot to offer campers of all ages.
The new Camper Connection branch will also serve residents from Manhattan as well as New York City's other Boroughs and parts of Connecticut.
The Cavallaro's want any recreational vehicle owners interested in working with their Camper Connection branch to know that the couple will care for
their RV's as if they were their own.
"We know what it's like to have that big investment sitting there and doing nothing," said Elizabeth.
"When you see it start to make some income and pay for itself, it's like it suddenly becomes a valuable, contributing member of the family."
Elizabeth and Jeramie Cavallaro love using their 32-foot Jayco Precept RV with their family, and with their two small children.
"Nothing beats traveling with the family and having all of their comforts from home along with us on the road" said Elizabeth. "God bless this road upon which are about to embark!"