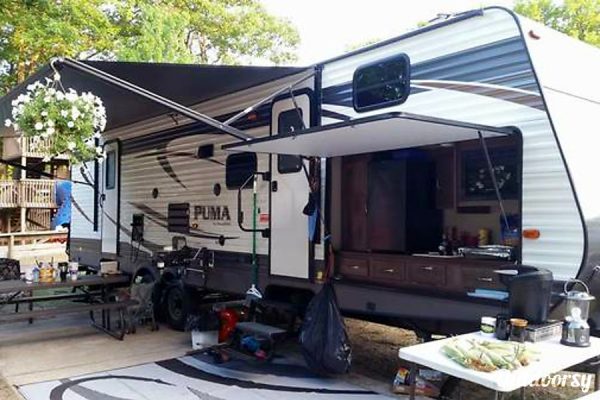 It's easy to picture a 40-foot camper rolling down the road behind a brand new four-door, dualie pickup truck. Many larger campers require a fifth wheel connection to a truck with enough power to haul it, and to get it out of a sandy or muddy campsite. But Michigan Camper Rental has campers in all sizes, so whether you're looking for room enough to sleep two couples and some kids or just need enough space for a romantic weekend get-a-way we've got you covered.
Big and Tall, or Small and Simple
Michigan Camper Rental can hook you up to a 32 footer, like the Coachmen Freedom Express UP5 with room for 8 people to comfortably call home on a week-long adventure. If you're looking for room to roam with family and friends the huge master stateroom, double bunks for the kids, and a convertible dinette and couch for extra guests make the Freedom Express a great choice.
The Coachmen isn't the only way to travel. Michigan Camper Rental offers a wide variety of sizes at our three locations so there are plenty of other campers to choose from. From Forest River to Flagstaff, we've got a model to fit your camping needs clean, stocked, and ready for you to reserve. They're even stocked with basics like paper towels, kitchen accessories, and even propane.
Too big you say? No worries, we've got you covered. Our camper selection includes smaller sizes like the Gulfstream Amerilite or the Dutchman Eco Easy Tow. They may be smaller in size but they're still big on comfort. With TV's and air conditioning, they can provide a perfect hideout if the weather dampens your plans. They are easier to haul as well, so even if you've got a lighter duty truck you don't need to sacrifice comfort or onboard amenities.
Can I Get That To Go?
But… what if your plans require room for 8 but your vehicle can't pull a big camper? We've got that covered too. Michigan Camper Rental will haul your selection to the campground you choose, and will even set it up for you on site. Your camping adventures are not limited by the car or truck you own, anyone can have anything, anywhere. Visit our camper rental selection and pick the camper that suits your needs and we'll do the rest if you wish.
Wrap It Up, We'll Take It.
When your camper rental is finished Michigan Camper Rental will also come pick the camper up so you can go on home without worrying about dragging the trailer back to us. We'll do the hard work for you, and even clean it up and restock the supplies so it's ready for the next adventure. Hopefully that next trip will be yours!
Let Michigan Camper Rental make your next mobile vacation as easy as it can be!