Surviving road trips with kids
A road trip with kids seems a little intimidating: the long car ride, endless hours of sitting, the messy crumb after-mess of snack time, etc. Sometimes travelling is inevitable when camping, but here are some tried and tested ways to surviving road trips with kids.
Leave extra travel time
This may seem obvious, but it's important! Remember that leaving on time with kids in tow is sometimes hard to manage, but it's also hard to arrive on time! A lot of campgrounds have a specific check-in time, so being on time is ideal. Call the campground before the departure to see if they are flexible.
Plan stops along the way 
Making stops with kids along the way has to happen, whether it's for potty breaks/diaper changes, snacks, or to stretch legs. Planning stops could be a fun way to let the kids blow off steam. Google parks, rest stops, and fun restaurants that could be a pit stop. Have the kids help pack a picnic with their favorite foods and stop at a park to eat and play.
Screen time
There is nothing wrong with some extra screen time to survive a long road trip! Netflix has a great new feature called offline streaming! Find the kids' favorite movies and download them to your tablet or phone. This allows the movie to be played anywhere at anytime, without being connected to cellular data or WiFi! Headphones might be a good idea to limit some of the noise. Don't forget chargers and a car adapter if needed.
Surprise toy bag
The dollar store has a great toy collection and everything is, of course, $1. A few days before the departure, buy some toys from there and throw them in a fun bag. When the kids start to get a little anxious in the car, let them choose a new toy from their bag. The surprise factor is always a bonus and should buy a little extra entertainment as well. Some favorites from the dollar store include stickers, board books, balloons, dolls, and slinkies!
Pack plenty of snacks
Even as adults, snacks are a great incentive! Pack individually bagged snacks for an easier hand out process. Goldfish and fruit snacks seem to be a crowd pleaser. For a healthier option, apple slices and fruit pouches are easy for toddlers to eat.  Use a mason jar and an extra fruit cup to store some veggies and dip for the more independent eaters. (Check out how to do this at https://www.popsugar.com/fitness/DIY-Mason-Jar-Snack-Idea-42111331).
Keep a cooler with the snacks and some bottled water (or sippy cups) for easy access.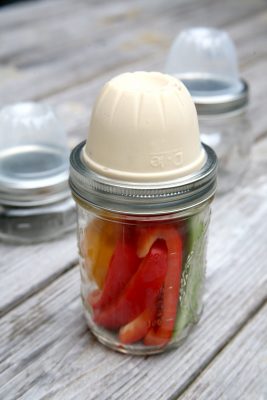 Clean up supplies
Kids are messy, and that's okay! Come prepared with some wipes or paper towels in the front seat. Keep a garbage bag close by as well. Disposable bibs are an easy way to keep clothes clean. A clean and organized car keeps surviving road trips easier!
Learning experience
Finally, take the opportunity to teach everyone about where you are going. If there's history behind the city, do some research beforehand and take the car ride to share the information. Print off some coloring pages that relate to the city and have the kids color on the way.
For your next road trip, make sure to check out our RVs, like this one. https://www.thecamperconnection.com/rv-rental/18481/
Let us know your road trip survival guide!